At Landscape PLC, we continuously strive for innovation and functionality, pushing boundaries to achieve excellence in every project. Our latest endeavor, the Padel tennis court at Zamzama Park, exemplifies this unwavering dedication.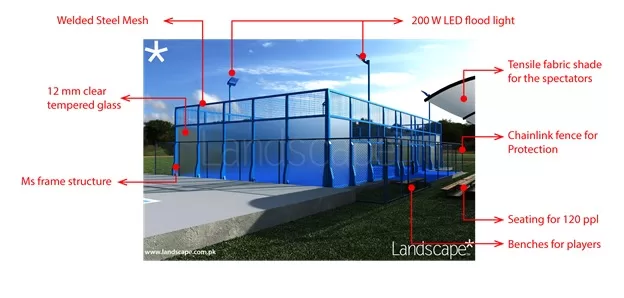 Converting a conventional tennis court into a cutting-edge Padel tennis court presented us with a creative challenge that we eagerly embraced. Our role extended far beyond mere imagination. We meticulously planned every aspect of the court, from its dimensions to its structural elements. With a comprehensive design package that included detailed construction drawings, immersive 3D renders, and a material board, we breathed life into our vision. To ensure the design met and surpassed international standards, our team conducted extensive research into the specific requirements of a Padel tennis court, meticulously integrating these standards and parameters.
Our design philosophy revolves around creating a harmonious and intuitive flow within the court. We understand that a successful sports facility goes beyond aesthetics; it is about optimizing the gameplay experience. The court's dimensions, precisely 66 feet in length and 33 feet in width, provide an extraordinary and highly competitive environment for players.
In our quest to maximize playability, we delved deep into the nuances of Padel tennis. Every detail of the court was carefully crafted, from the choice of surface material to the precise net height. The synthetic turf surface ensures excellent traction and consistency, enabling players to move effortlessly and showcase their skills. The durable 12mm toughened glass rebound panels offer both visibility and resilience, enhancing the overall experience.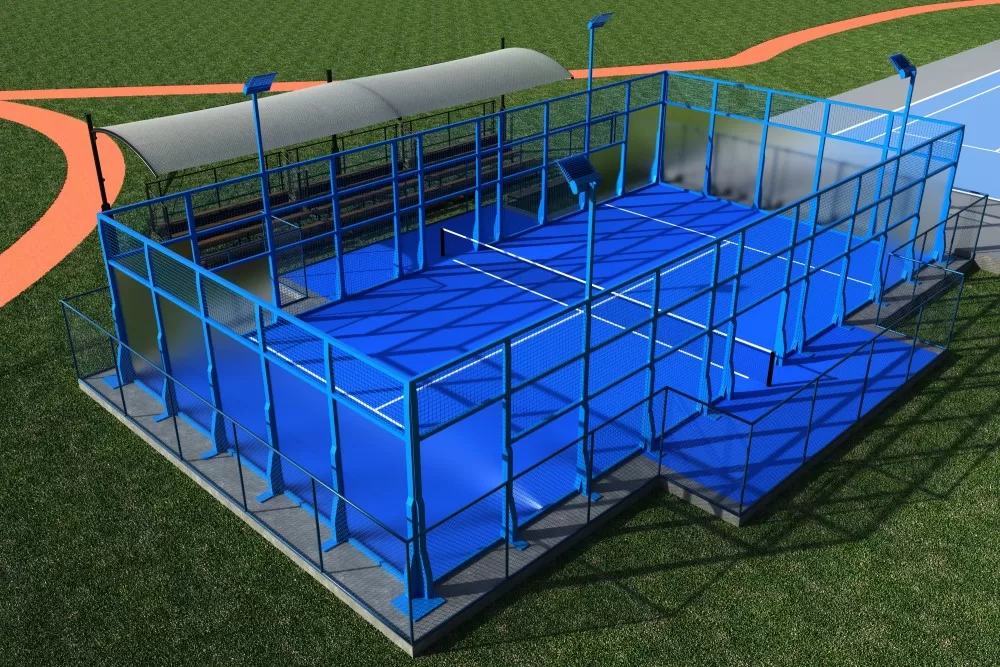 Equally vital are the court's structural elements. The combination of glass and welded steel mesh rebound walls, supported by robust steel posts fixed to a concrete foundation, ensures stability and safety. The chain-link fencing and enclosure not only provide security but also maintain clear visibility for spectators, enhancing the court's overall atmosphere.
Our commitment extends beyond the court's boundaries. We thoughtfully considered the surrounding environment and addressed crucial aspects such as wind protection, accessible pathways, optimized seating arrangements, and top-tier amenities for both players and spectators. As Landscape PLC reflects on its role in the Zamzama Park Padel tennis court project, we take immense pride in redefining sports architecture through design.
Experience the innovation and meticulous attention to detail that Landscape PLC brings to sports architecture. Explore the transformative Padel tennis court design at Zamzama Park and witness our commitment to excellence in every aspect of the project.