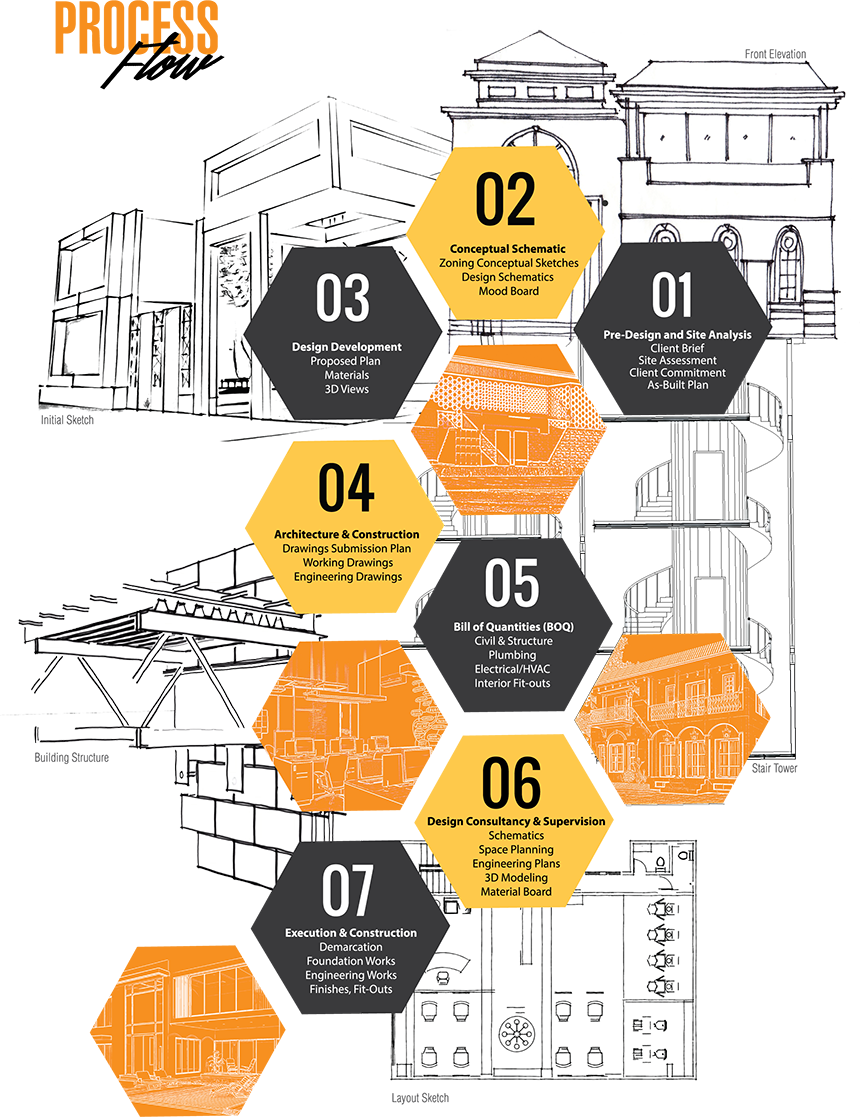 1) Pre-design and site analysis
Client brief
Site assessment
Client commitment
As-built plan
2) Conceptual schematic design
Zoning conceptual sketches
Schematic design drawings
Mood board
3) Design development
Proposed plan
Furniture layout on scale
3D views
Materials
4) Architecture and construction
Drawings submission plan
Workshop drawings
Engineering drawings
5) Bill of Quantities      (BOQ)
Civil and Structure
MEP (mechanical, electrical and plumbing)
Interior fit-outs
Furniture; Decor and Accessories
6) Design consultancy    and supervision
Schematics
Space planning
Engineering plans
3D modelling
Material board
7) Execution and construction
Demarcation
Foundation works
Engineering works
Finishes
Fit-outs
What can you expect when you work with Landscape?
At the very start of a project, we'll meet up to discuss the requirements of the project. If we're working to remodel an existing structure, we'll carry out a site visit to fully assess the scope of what is needed. In case it is a plot, we will take the orientation in Google coordinates.
From this meeting, we'll put together a proposal including estimated fees, the scope of deliverables, and expected timelines. We ask for a 50% deposit to be paid. Once this is received, we'll move the project forward by putting together a mood board to set the design theme. Once the theme is approved, we'll undertake sun path and wind studies to devise our planning.
Next, we'll present our plans for approval. Once these are agreed, we'll develop 3D images showing you a 95% virtual view of the proposed space. When these 3D images are approved, we'll invoice the partial balance of your payment.
Following this, we'll start developing engineering drawings, which can include structural, civil, and mechanical, electrical and plumbing (MEP) drawings. At the same time, we'll send you the Bills of Quantities (BOQs) updating the projected costs. At this stage, you may choose to use your own contractor with Landscape continuing to oversee the project management. Alternatively, we can handle the entire build too.
Discover how we will take your project from idea to outstanding. Take a look at our Design Gallery or get in touch at cs@landscape.com.pk