Modern-day kitchen furniture layout is known to be modular, especially designed to optimize functionality and the use of space.
These kitchens use various modules (units) of cabinets that are crafted out of diverse materials and hold kitchen accessories inside. The basic structure of a modular kitchen is extremely practical.
Space Criterion
Whats Decides the Size of a Kitchen?
The size of the kitchen should be determined by the number of bedrooms provided in the living unit.
Work centers for the following equipment, cabinets, and space for their use should be provided:
– Range space with base and wall cabinet at one side for serving and storage of utensils and staples.
– Sink and base cabinet with counter space on each side for cleanup. Wall cabinets for storage of dinnerware.
– Refrigerator space with counter space at latch side of the refrigerator door.
– Mixing counter and base cabinet for electrical appliances and utensils storage. Wall cabinet for staple storage.
Recommended Minimum Edge Distance
Equipment should be placed to allow for efficient operating room between it and any adjacent corner cabinet. At least 9in from the edge of the sink and range and 16in at the side of the refrigerator is recommended.
Circulation Space
A minimum of 40in should be provided between base cabinets or appliances opposite each other.
This same minimum clearance applies when a wall, storage wall, or work table is opposite a base cabinet.
Traffic
Traffic in the kitchen should be limited to kitchen work only.
Serving circulation to the dining area should be without any Cross traffic.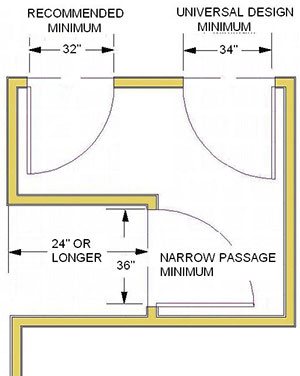 Functionality and Human Dimension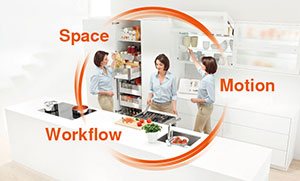 The idea behind this is quite simple. You should be able to draw a triangle between the 3 'work centers' of the kitchen. These are:
– The hob – A place where the food is cooked.
– The refrigerator – A place which is most likely to store the food.
– The kitchen sink – A place where the food is cleaned and prepared for cooking.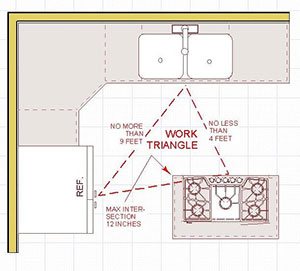 Ideally, the distance between these 3 work centers should be fixed in the kitchen. According to the norm, the 3 sides of the triangle should be betweeen 1.2 meters and 2.7 meters (i.e between 4 feet and 9 feet), adding up to a total of between 4 meters and 7.9 meters (i.e between 13 feet and 26 feet).
The kitchen work triangle is based on the insight that you are likely to perform several different tasks to prepare a meal. Therefore, this work space is designed ergonomically, reducing the time, distance and effort you use while cooking. If there is more than one person in the kitchen, individual spaces should not be affected by each other. Most modular kitchens are designed keeping the kitchen work triangle as their fulcrum. Offering you an extremely efficient kitchen experience.
A designer usually creates the kitchens using modules of standardized sizes that can be adapted to individual spaces. The modules are used in various combinations to get a range of modular kitchens. So, it's never too difficult to find one that will suit exactly what you need.
Modular kitchens come in multiple shapes, styles and arrangements. But one thing remains common across all of them; the work triangle. This is a basic and scientific principle that has been used in designing ergonomic and functional kitchens through the years.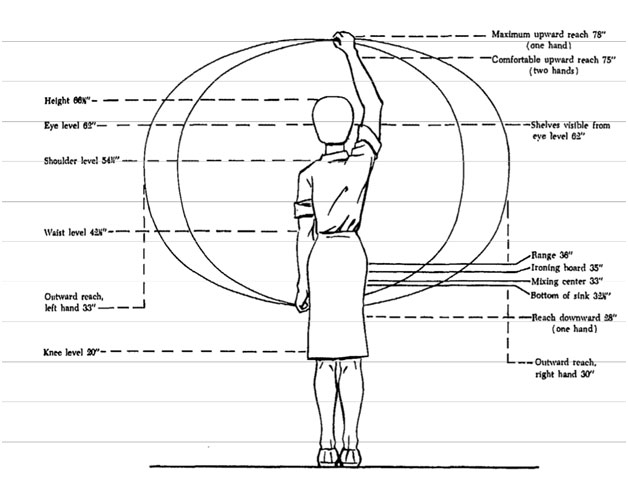 Nowadays, all roads in the house lead to the kitchen, from cooking meals, entertaining guests, supervising school homework or communicating with family and friends. The kitchen is the hub of any home, therefore it is important that a kitchen is well planned, adequately organized and that it maximizes all the useable storage space to perform the kitchen tasks successfully.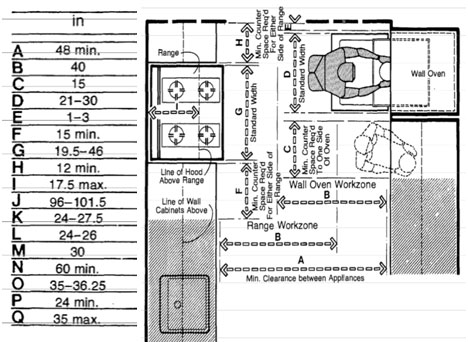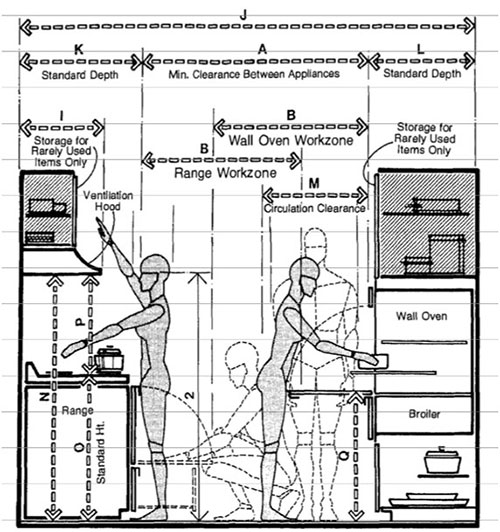 SOURCE: BOOK – TIME SAVER STANDARDS

Movement in Kitchen
There are over 100 kitchen zone movements per day in an average 4-person household kitchen. These movements include 30 journeys leading to and from the table, plus 50 activities carried out in the kitchen zones; different kitchen appliances used 30 times, doors, drawers and pull-outs opened and closed over 80 times.
You don't have to be an expert to figure out that all these activities amount to thousands of hours of work throughout the life of a kitchen. This also amounts to thousands of kilometers back and forth, innumerable knee bends and millions of small body movements by the kitchen user. It is therefore important that given all these movements that the kitchen is designed to consider ergonomic and functionality as part of the planning.
Studies comparing traditionally planned kitchens with those planned in accordance to the DYNAMIC SPACER planning criteria have been conducted, using the so-called 'Thread Study'. The results showed that travel in DYNAMIC SPACER kitchens were significantly shorter. As illustrated in the example below, some of these were up to 20% shorter. However, it wasn't just distances that were shortened, work times were also significantly reduced as items were stored in related zones applicable to the task being performed. The amount of kitchen work time in a DYNAMIC SPACER kitchen was merely one hour and 40 minutes per day as opposed to two hours in other kitchens. It is also possible to save a further 10 minutes a day by using pull-outs in base cabinets instead of shelves to access items quicker. This amounts to a half an hour of saved time per day.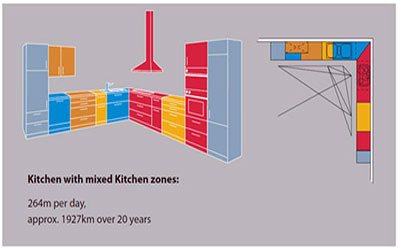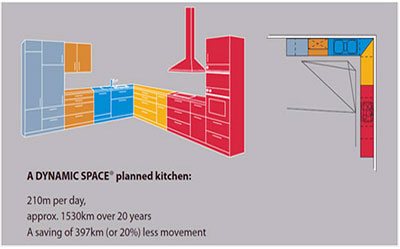 SOURCE: WEB SEARCH | ROMAN DINI CABINETS
Layout Zones
Firstly, divide your kitchen tasks into work areas or zones. This will assist you to focus on what function is important for you during the use of the kitchen. Dynamic Space is the latest kitchen planning Standard that elevates the kitchen functionality beyond the standard 'Working Triangle'. Dynamic Space identifies the 5 main kitchen activities into zones and places them in relation with other zones. This optimizes workflow movement during the performance of tasks and increases storage space.
These zones are:
– Consumable
– Non-Consumable
– Cleaning
– Preparation
– Cooking
Distance travelled and movements in the kitchen during tasks can be dramatically shortened and workflow simplified by correctly allocating all kitchen items in their respective zones. Storing certain items in different height levels in your kitchen should also be considered during the process of organizing items that are frequently or infrequently used. This will make the kitchen more ergonomic to access stored goods.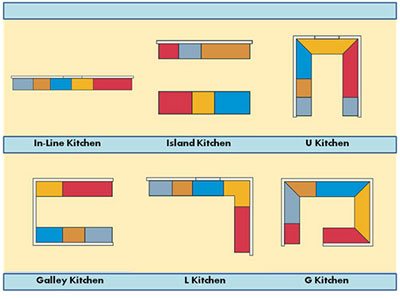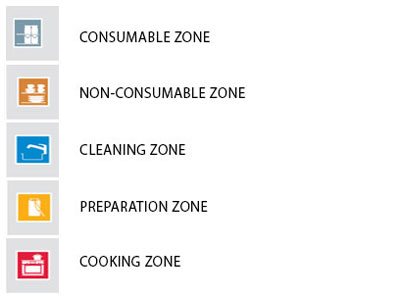 Kitchen Preparation Zone
In-Line/Single-Row Kitchen

– Ideal for smaller kitchens
– Place the sinks between the refrigerator and stove
– The work triangle in this kitchen layout is less.
– Like a triangle and more of a walk, with all the three main elements   along one side of the wall.
– Consider Back splashes to add visual interest.
Island Kitchen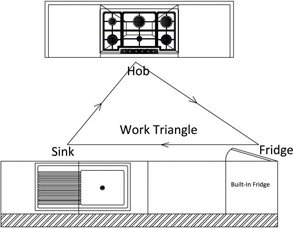 – The Island kitchen has one of the three main elements, especially the hob, placed separately form the cabinets.
– The Setup makes it look like an isolated island.
U-Shaped Kitchen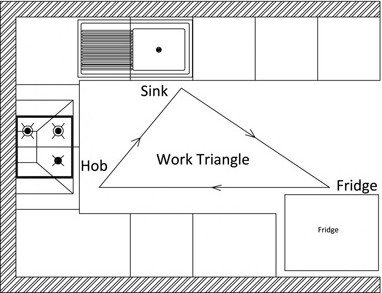 – The most versatile layout for kitchens, regardless of whether they are    large or small.
– The layout offers continuous counter tops and ample storage, which   surround the space to access the stored items easily.
Parallel/Gallery Kitchen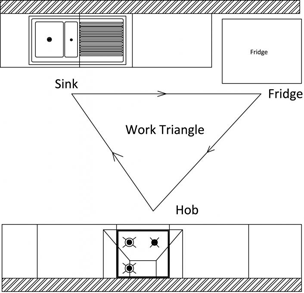 – Has a workspace large enough for one cook.
– In this kitchen floor plan, the work domains face each oterh on parallel walls, creating a small triangle.
.
L-Shaped Kitchen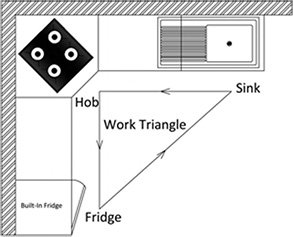 L-Shaped Kitchen with Island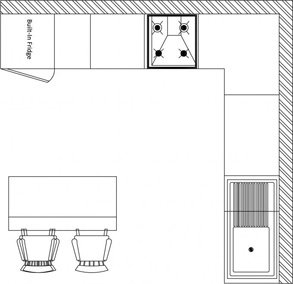 – One of the most popular models.
– The work triangle in this layout is uninterrupted by the movement of people.
– Ample room for the appliances.
Peninsula/G-Shaped Kitchen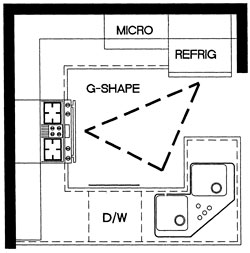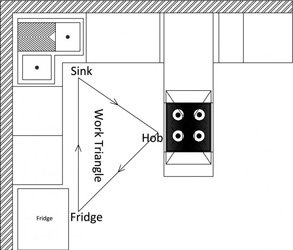 In a peninsula kitchen, as the suggests, the cabinet surround the work area in the kitchen on three sides
– Don't break the Kitchen Triangle
– Separate meal prep, cooking and clean-up areas.
SOURCE: WEB SEARCH | JOHNSON KITCHENS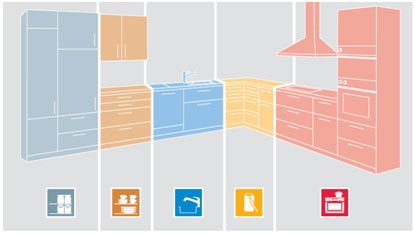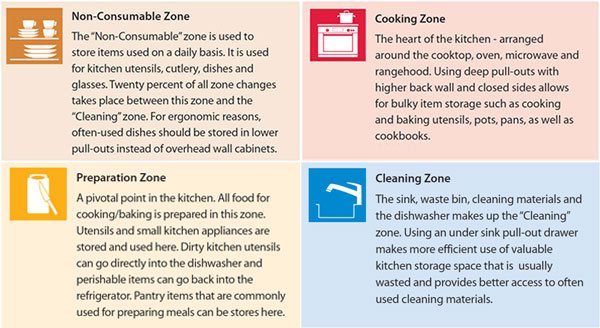 Storage Zoning
A kitchen design must go beyond just the 'look' of the exterior. A 'dynamic' design incorporates ergonomic and workflow consideration, ease of access to frequently used kitchen items and the utilization of the kitchen space into 'useable and accessible' storage space. Utensils, crockery and appliances should all be easily at hand where and when you want them.
A common misconception is that good storage of items can only be achieved in a large kitchen. However, the key to efficient kitchen storage is converting the available space into 'useable and accessible' storage space. Seemingly large kitchens that are planned incorrectly can therefore have poor storage capacity.
Using today's kitchen hardware technology will not only increase the storage space, but also dramatically increase the functional workflow of the kitchen. The use of space and allocating work areas that considers the workflow is pivotal in creating a 'dynamic' kitchen plan.
The units on the floor are called "base cabinets" and serve as the foundation for the kitchen worktop which is usually made out of granite, marble, tile or wood.
The ones fastened on the wall for storage purposes are known as 'wall cabinets'. There is even a 'tall storage unit' created for smaller kitchens and apartments.
Recommended Ergonomic Storage Levels for Storage Items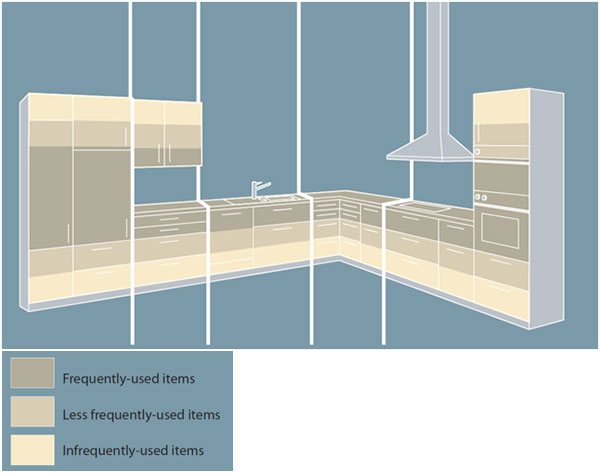 SOURCE: WEB SEARCH | ROMAN DINI CABINETS
Kitchen Design – Storage Units and Access
A common misconception is that good storage of items can only be achieved in a large kitchen. However, the key to efficient kitchen storage is converting the available space into 'useable and accessible' storage space. Seemingly large kitchens that are planned incorrectly can therefore have poor storage capacity.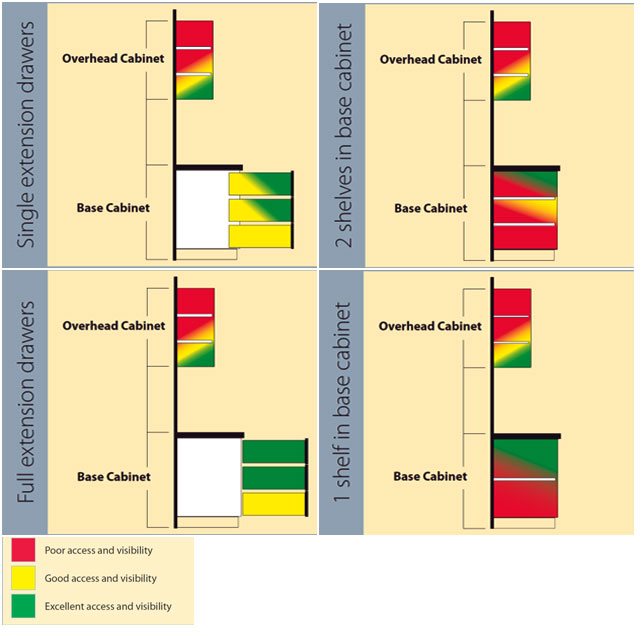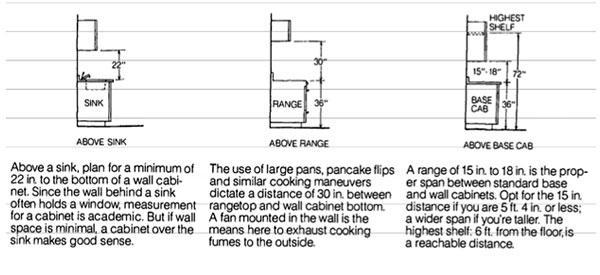 Materials and Accessories
Modular kitchen also constitutes wooden cabinets, counter tops, internal accessories, as well as electro-domestic gadgets like a chimney, hob, built-in oven and sink. In some high-end kitchens, a refrigerator and dishwasher may also be included.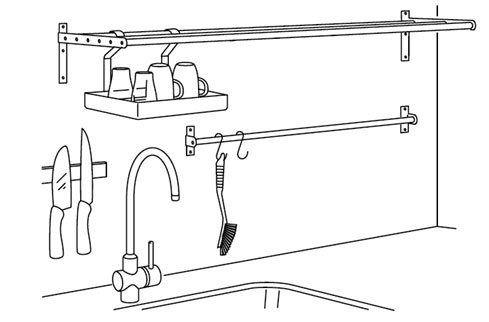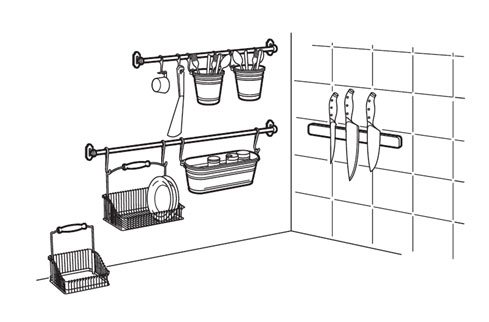 Interior Fittings for Base units (Inner Dividing System)
– Undersink Towel rail
– K pull-out unit
– Front pull-out,2-tier
– Front and internal pull-outs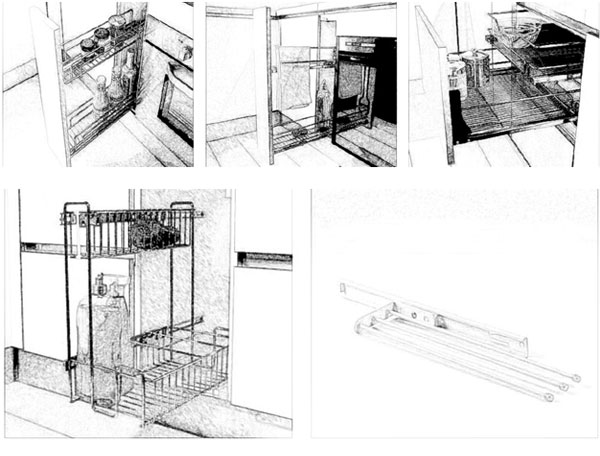 Corner Solutions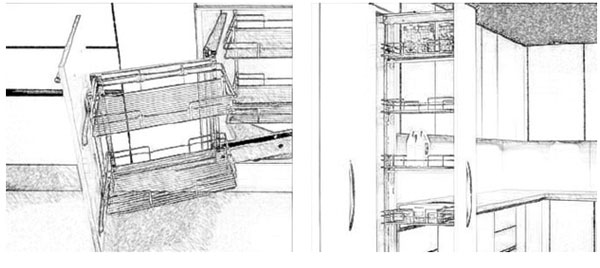 Corner unit pull-out system
Cutlery Trays and Accessories and Waste Systems, Bottle Storage, Spice Racks

SOURCE: WEB SEARCH | TBM
Wall units-Lift System

SOURCE: WEB SEARCH | BLUM
bi-fold lift system
– Ideal for high wall cabinets
– Handle is easy to reach, even when the lift system is open
– Takes up minimal space even with the large cabinet heights
– Can be used with fronts of different heights
– Variable stop
Up & over lift system
– Ideal for large, one-part fronts
– Minimal space required thanks to swivel motion
– Can be combined with cornice or crown moulding
– Variable Stop
Lift up
– Ideal for tall or wall cabinets with fronts above or for recessed cabinets
– Suitable for smaller, one-piece and even low fronts
– Easy access to storage items
– No hinges required
– Variable Stop
Small Stay Lift
– Perfect for small cabinets e.g. over refrigerators or Space Tower (pantry)
– Harmonious Proportions
– No hinges required
– Variable Stop
Stay Lift
– Ideal for small and medium wall cabinets
– The space requirement above cabinet is low thanks to the lift system motion
– No hinges required
– Variable Stop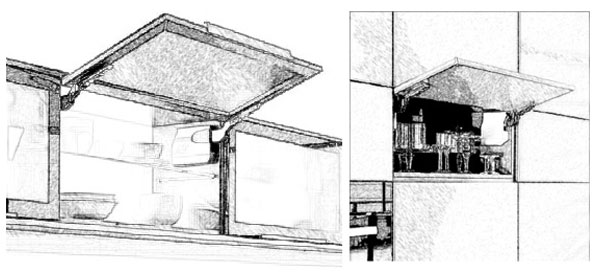 SOURCE: WEB SEARCH | BLUM
DOOR AND DRAWER MATERIAL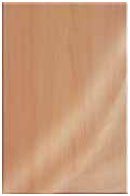 Two-pack polyurethane: a hard wearing paint finish that is impact resistant. Ideal for a long lasting finish and available in a variety of paint colors or clear for timber finishes.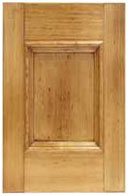 Natural timber veneer:is a cost effective and environmentally friendly alternative to solid timber. A thin layer of timber veneer is laminated over an MDF (medium density fibre) substrate. Available in a variety of natural or exotic new age varieties. Used in either traditional or modern kitchen styles.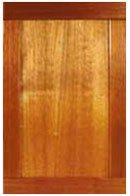 Solid timber:provides a natural look that exudes a warm ambience that is hard to create through man-made substrates. Usually used on traditional kitchen styles, but recent trends has seen a resurgence of natural timbers incorporated in modern style kitchens.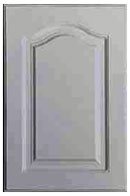 Vinyl / Foil Wrap: Easy to clean as well as durable. Vinyl (foil) wrap doors are available in a range of colours, patterns and textures. The foil vacuum-seals the door, making it moisture resistant and non-porous.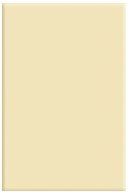 Colourboard/Laminate: An economical, durable and hard wearing finish that is popular in many kitchens. Available in many colours and decorative finishes and is ideal for busy kitchens that are required to be easy-to-clean. Available with post form rolled or square edges.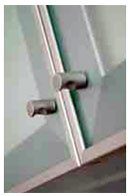 Aluminium / Glass: Available in a variety of aluminium door profiles to suit different designs. Provides a crisp modern look to any kitchen. Can also be combined with solid or translucent coloured glass for a stunning look.
BENCH TOP TYPES
Kitchen benchtops are available in a variety of finishes and colours which can accommodate for choices based on fashion, functionality or finance.
The 4 main benchtop types are: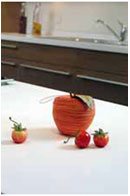 Solid Surface
offers all the aesthetic appeal of granite and stone, plus it has superior durable properties and easy-care maintenance.
Solid surfaces are non-porous, resists staining and unlike other types of surfaces, offers smooth seamless joins, where bacteria cannot collect. Can be used for benchtops and splashbacks.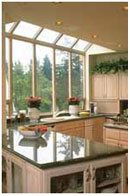 Granite/Marble
A combination of granites and quartz, these benchtops provide a hard and durable surface. Due to these properties a diamond tip machine is required to cut and can be expensive to fabricate for complex designs. Joins are visible and surface must be properly sealed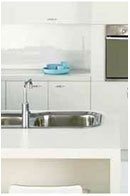 Laminate
Laminate is a decorative surface suitable for both horizontal and vertical interior applications. Available in a huge range of colours and finishes. A budget alternative to other benchtops, but may not fare well against scratching or heat damage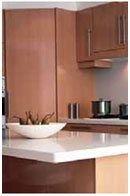 Reconstituted Stone (Engineered stone)
Reconstituted stone is a man-made engineered stone that combines quartz with resin and coloured pigments. It is available in a range of colours and has the durability of stone. Benchtop joins are visible.
LIGHTING
ARTIFICIAL AND NATURAL LIGHTING
Lighting or illumination is the deliberate use of light to achieve a practical or aesthetic effect. Lighting includes the use of both artificial light sources like lamps and light fixtures, as well as natural illumination by capturing daylight.
Indoor lighting is usually accomplished using light fixtures, and is a key part of interior design. Lighting can also be an intrinsic component of landscape projects.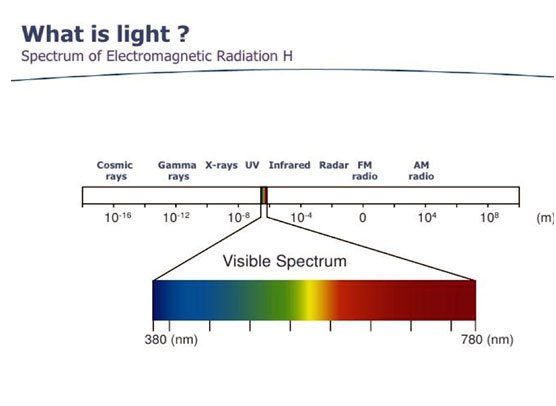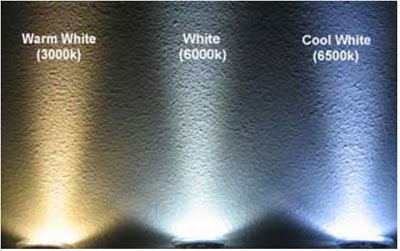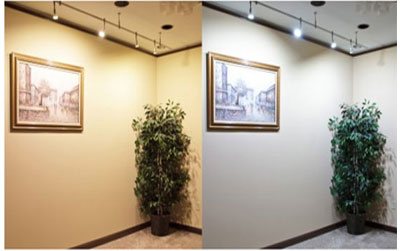 WARM AND COOL LIGHTING
Cool White lights give off a bluish toned hue that some people may find a little too artificial. You can usually see cool LED lights being incorporated in displays and for decorations that involve things such as snow, ice and other lighting needs that call for a 'cool' tone. Natural White on the other hand, creates a natural bright white luminosity that is ideal for bathroom and kitchen settings. This hue is undoubtedly the most popular of the three colour variants and can be incorporated into a variety of home and business applications. Warm White LEDs give off more of a yellowish/golden hue and are often used for bed and lounge room lighting projects. These style of lights produce a colour that is quite similar to that of an incandescent bulb.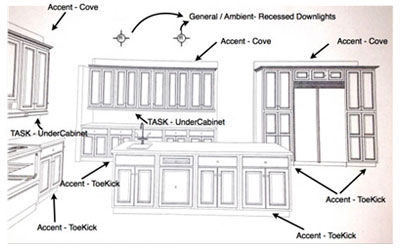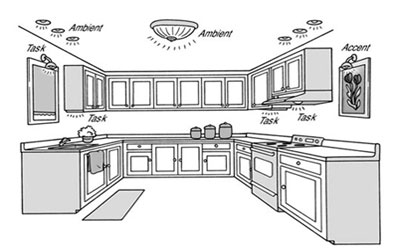 AMBIENT LIGHTING
– Ambient also general
– Provides over all illumination for the room
– Create uniform light level through the space
– Takes many form
1- Ceiling mounted or recessed fixture that direct light downwards.
2- Wall sconces or floor lamp torchieres that wash the wall with lights.
3- Cove.
4- Soffit and valance lighting the bounces light off ceilings and wall.
– This type basically ensures that a room is comfortable and that its inhabitants make their way around the room without tripping on unseen obstacles.
– Your ambient lighting plan may comprise both artificial light from light fixtures as well as natural light from the sun and moon that seeps in through windows.
– The mood of a room greatly depends on the way you organize ambient lighting. Even the style of the actual fixtures can influence the atmosphere in substantial ways.
TASK LIGHTING
Targeted to a particlular area of a room
Intended to illuminate a specific function
Areas which require task lighting
1- Kitchen counter where food is prepared.
2- Living room seating are where reading ill take place.
3- Home office desk surfaces where paper work will be done.
4- In a kitchen under cabinet lighting provides tasl lighting for a counter top.
5- In a living room table lamp is often used for task lighting to accommodate reading.
ACCENT LIGHTING
Also called highlighting draws attention to a particular object such as artwork, sculpture, plant or book cases.
Often used outdoors, to highlight a beautiful tree, plant or water feature, or to draw the eye to a particular area of a landscape.
Recessed or track lighting is often used for accent lighting with adjustable fitting that allows light to be focused precisely even on a small object
– Under cabinet lighting is used in kitchens to provide task lighting and to supplement the overall ambient lighting or the space.
– Under cabinet light illuminates the horizontal task surface used for Food preparation, reading cookbooks and food packages, cooking, And clean-up, and provide vertical illuminance on the wall behind the counter.
– Colour temperature for residential kitchens is typically 3000k or lower, Providing a warm look.
– Uniform illumination is important to prevent shadows and give the Perception of a large space.
KITCHEN AND DINING ROOM LIGHTING PLAN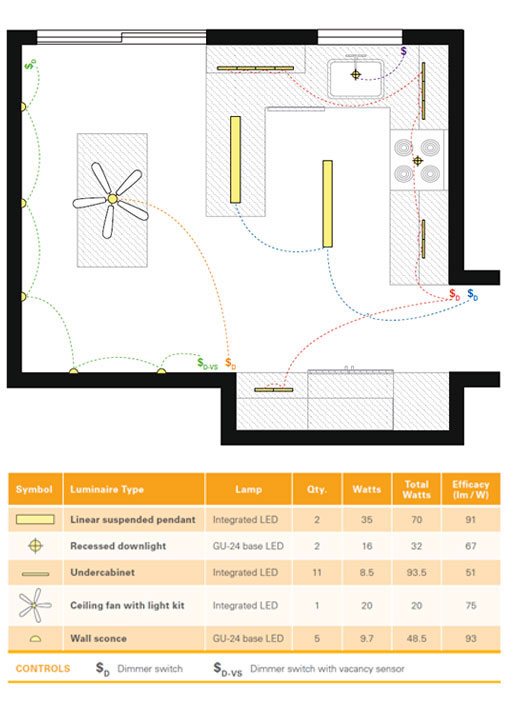 https://www.landscape.com.pk/wp-content/uploads/2019/05/
LARGE KITCHEN LIGHTING PLAN